This page provides tables which help converting characters' birth date from French Republican Calendar (FRC) to Gregorian Calendar.
Reason on why Republican Calendar for Year I, II, III, V, VI and VII is Used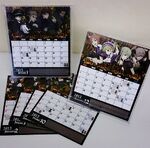 When we check official calendar,
Archibald's DOT icon
appeared on 19 October.

Under FRC month Vendémiaire, first month of the year,
there are three possible dates for 19 October - 26, 27 and 28.

Since the day shown in his profile page is 28,
therefore the Republican Calendar for year I, II, III, V, VI and VII should be used during conversion.
How to Use
Edit
Instructions
Example
1. Click on respective character's profile page.
Melen's Page
2. Check the birthday (誕生日) section,
the one which contains Japanese (kanji) and Arabic number at the same time.
霧月10日
3. Go to first section of this page to find respective season and month in FRC by checking kanji.
Brumaire (Autumn)
4. Click on respective season sub-page under second section and find corresponding FRC month.
Autumn's Section
5. Check upper number line and find Arabic number listed in official profile page.
10
6. Mark the number right under targeted Arabic number as that character birthday.
31 October
Converting Months from Kanji
Edit
Autumn
Month in Kanji (Image)
Month in Kanji (Text)
葡萄月
霧月
霜月
Month in French
Vendémiaire
Brumaire
Frimaire
Winter
Month in Kanji (Image)
Month in Kanji (Text)
雪月
雨月
風月
Month in French
Nivôse
Pluviôse
Ventôse
Spring
Month in Kanji (Image)
Month in Kanji (Text)
芽月
花月
牧草月
Month in French
Germinal
Floréal
Prairial
Summer
Month in Kanji (Image)
Month in Kanji (Text)
収穫月
熱月
果実月
Month in French
Messidor
Thermidor
Fructidor
Date Conversion Sorted based on Season
Edit