The following chart is taken from the official website. Click on it to view full-sized image.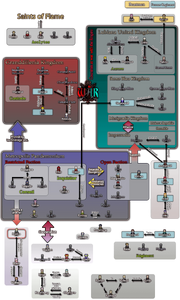 If you are interested in Rare card stories, you may want to check out this fan-made timeline ,the photo section of Unlight International Community for some of the story summaries, or the translated stories from the official Facebook fanpage. Of course, you can always level your own Rare cards and enjoy the stories!
Ad blocker interference detected!
Wikia is a free-to-use site that makes money from advertising. We have a modified experience for viewers using ad blockers

Wikia is not accessible if you've made further modifications. Remove the custom ad blocker rule(s) and the page will load as expected.