Raid Battle is a feature for multiple players to coorperate and defeat some of the most powerful monsters in the world of Unlight. These monsters can be found in the Profounds and players will be greatly rewarded if they are defeated.
Raid battles can be started by players anytime, but they appear most frequently during Raid-oriented Events . It is estimated that such event is held once every 3 to 4 months.
The Raid Interface
Edit
After clicking "RAID" on the main page, you will see the following.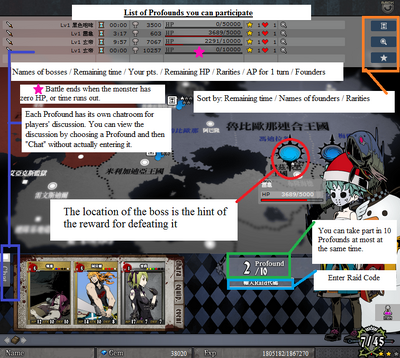 (click the image to enlarge)
After selecting a Profound, you can use the following functions: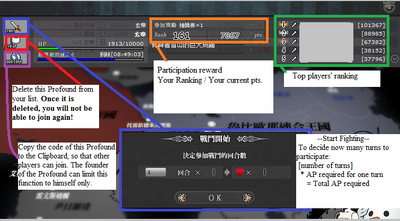 (click the image to enlarge)
How to Start
Edit
To start a Raid battle, you must first "open" a Profound by certain kinds of "Profound Detectors". Such detectors can be obtained in the following ways:
Cash Shop
Event -related archievements. (please refer to the individual event pages for details)
However you obtained the Detectors, using them in the RAID page will open the Profound. Select one of them and you can easily start to battle!
If a player on your friend list opens a Profound, it will automatically appear on your RAID page and you can choose to join them. You can also enter other players' Profounds if they give you the Raid Codes.
For Chinese FB version, some of the common places where players share their Raid Codes include:
It should be noticed that statuses inflicted on the raid boss are shared between all players fighting; however the duration for statuses is converted from turns to minutes. A notifier will display before the attack phase on the right about which characters are attacking the boss at that time. Failure to defeat the boss within the time limit results in no rewards.
Points are used in reward distribution and are acculmulated through damage.
Bosses Available All-the-time
Edit
"Death" series
Edit
"Death" series
Red Death Beast
Black Death Beast
Plague
Time Limit
3 hours
Time Limit
6 hours
Time Limit
12 hours
Event
★★★★★☆
Event
★★★★★☆
Event
★★★★★☆
HP
ATK
DEF
Total
HP
ATK
DEF
Total
HP
ATK
DEF
Total
500
10
8
518
3500
10
8
3518
6000
10
8
6018
Rarity
-
Rarity
-
Rarity
-
Cost
-
Cost
-
Cost
-
ID
-
ID
-
ID
-
Profile
吞食死亡的巨獸。擁有許多眼睛的巨大四腳獸。
Active Skill
Resonance
Move / Short, Middle / 2^ Move
If your opponent chooses to "Move Forwards" or "Move backwards" in this Move Phase, such action will have no effect.
引發地震封住獵物的行動。
Frenzy
Attack / Short, Middle / 3^ Sword
ATK +14. If your attack is successful, give your opponent [Poison] (3 turns).
帶有瘴氣的強力一撃。
Reminiscence
Attack / Middle, Long / 3^ Gun, 2^ Special
ATK +8. If your attack is successful, give your opponent [Stun] (1 turn).
強制再構成的死亡記憶。假造的記憶。
Drainage
Attack / All Ranges / 1^ Any, 1^ Any, 1^ Any
ATK +3. Deal 1 direct damage to all members in your opponent's team. Transfer all the Status Effects you are having to your opponent.
循環的死亡逐漸改寫周圍的世界。
Passive Skills
The Immortal
Liberation
Hardening
Absorption
Always activated
Always activated
Activated only at server time:
XX:10:00 - XX:19:59
XX:40:00 - XX:49:59
Activated only at server time:
XX:20:00 - XX:29:59
XX:50:00 - XX:59:59
Any skills related to "instant death" will have no effect to you. Status [Stun] will have no effect to you. The effect of the status [Curse] will be reduced.
When you are having [Seal], you will have certain chance to remove this status from yourself.
The Physical Attack you take is reduced to 25% (rounded down). The Special Attack you take is doubled.*
The Physical Attack you take is doubled. The Special Attack you take will be absorbed to heal yourself (Max: 5 HP).*
A great and invulnerable existence.
無法抑制的兇猛靈魂。
變化身體表面的組成,形成堅固的外殼。
額頭上的水晶體將能量吸收轉化為自己所用。
*Notes:The terms Physical Attack and Special Attack are used exclusive to these bosses to describe the dice damage they take. All the attack skills in the game are classified as either Physical Attack or Special Attack. Basically those skills which require Special card to activate are Special Attack, but there are exceptional cases.

Event Cards used by the boss:
"Maggot" series
Edit
"Maggot" series
The Eater
The Butcher
The Crawler
Time Limit
3 hours
Time Limit
6 hours
Time Limit
12 hours
Event

★

★

★

★

★

★

Event

★

★

★

★

★

★

Event

★

★

★

★

★

★

HP
ATK
DEF
Total
HP
ATK
DEF
Total
HP
ATK
DEF
Total
500
5
4
509
1000
6
5
1011
2000
7
6
2013
Rarity
-
Rarity
-
Rarity
-
Cost
-
Cost
-
Cost
-
ID
-
ID
-
ID
-
Profile
啃食世界的大妖蛆。
Active Skill
Exaggerated Silence
Move / Short, Long / 2^ Move
At the end of this Move Phase, your opponent will take all the cards you play in this Move Phase. Afterwards, you will take all the Sword and Gun cards with face value of 5 or above from your opponent's hand.
散播絕望吞食希望。
Prey
Move / All Ranges / 3^ Move
Give your opponent 2 direct damage. If this damage kill him, give yourself [Chaos] (3 turns).
Give your opponent 2 direct damage. If this damage kill him, give yourself [Chaos] (4 turns).
Give your opponent 2 direct damage. If this damage kill him, give yourself [Chaos] (5 turns).
昏暗之夢的終結與開始。
Reserved Despair
Attack / Short , Middle / 1^ Any, 1^ Any, 1^ Any
ATK +3 +9* (number of Sword or Gun cards with face value of 5 or above you play). Your opponent will be left with at least 1 HP.
ATK +4 +12* (number of Sword or Gun cards with face value of 5 or above you play). Your opponent will be left with at least 1 HP.
ATK +5 +15* (number of Sword or Gun cards with face value of 5 or above you play). Your opponent will be left with at least 1 HP.
就只是等待被血海給吞食而已。
Chaotic Dance
Attack / All Ranges / 3^ Special
Give your opponent [Paralysis]. If, at the end of the next Move Phase, your opponent is still standing at the same Range as now, he will take 4 direct damage.
Give your opponent [Paralysis]. If, at the end of the next Move Phase, your opponent is still standing at the same Range as now, he will take 5 direct damage.
Give your opponent [Paralysis]. If, at the end of the next Move Phase, your opponent is still standing at the same Range as now, he will take 6 direct damage.
不淨之物滿溢而出從地底突破天際。
Passive Skills
The Immortal
Slime Skin
Sink
Soggy Finale
Always activated
Always activated
When your HP is between 40% to 60% of your maximum
When your HP is below 40% of your maximum
Any skills related to "instant death" will have no effect to you. Status [Stun] will have no effect to you. The effect of the status [Curse] will be reduced.
You have a low chance to get the statuses [Paralysis], [Poison], [Fear], [Seal].
DEF +20. In your Attack Phase, you will take 7x direct damage done to you.
ATK +7. You take 2x dice damage done to you.
A great and invulnerable existence.
附著在體外的黏液,就像別的生物般流動著。
以地表為盾的強力防禦。
迴響的怒吼聲將招來新的災厄。
"Deep Sea" series
Edit
"Deep Sea" series
The Deep Ones
The Inviter
Deepwater Domina
Time Limit
3 hours
Time Limit
12 hours
Time Limit
12 hours
Event

★

★
Event

★

★

★★
Event

★

★

★

★★★
HP
ATK
DEF
Total
HP
ATK
DEF
Total
HP
ATK
DEF
Total
450
3
4
457
900
4
5
909
1800
5
6
1811
Rarity
-
Rarity
-
Rarity
-
Cost
-
Cost
-
Cost
-
ID
-
ID
-
ID
-
Profile
統領海魔的魔物。隨著遮蔽月光的深霧侵蝕著魔都
Active Skill
Song to Sympathize Demon
Move / All Ranges / 1^ Any, 1^ Any
Move / All Ranges / 1^ Any, 1^ Any
Move / All Ranges / 1^ Any, 1^ Any, 1^ Any
Take at most 3 cards from the Action Card stack with the lowest face values.
Take at most 4 cards from the Action Card stack with the lowest face values.
Take at most 6 cards from the Action Card stack with the lowest face values.
像要填滿一切般纏繞上來的東西們
Transparent Hands
Move / Middle, Long / 2^ Special
Move / Middle, Long / 2^ Special
Move / Middle, Long / 2^ Special
Drain 1 HP from your opponent.
Drain 1 HP from your opponent.
Drain 2 HP from your opponent.
撈起後又零散而落
Ancient Breath
Move / All Ranges / 1^ Any, 1^ Any, 1^ Any
Move / All Ranges / 1^ Any, 1^ Any, 1^ Any
Move / All Ranges / 1^ Any, 1^ Any, 1^ Any
Give yourself a special Event card.

杯子被注滿接著灌滿空蕩的肺
Lament of a Ceasing Town
Attack / Short, Middle / 4^ Gun
ATK + (number of cards you use).
ATK + 2*(number of cards you use).
ATK + 3*(number of cards you use).
撕裂霧氣侵略而來的無數飛槍
Passive Skills
The Immortal
Heart of the Sea Demon
Enveloping Night Fog
X
Always activated
Always activated
Always activated
Activated when your HP is below 50% of your maximum
X
Any skills related to "instant death" will have no effect to you. Status [Stun] will have no effect to you. The effect of the status [Curse] will be reduced.
You have a low chance to get the statuses [Paralysis], [Berserk] or [Seal].
You will at most take 20 dice damage in your Defense Phase. You will take 2x direct damage in your Move Phase.
X
A great and invulnerable existence.
將吃下的生命融為己物的魔物心臟
只有紅花盛開的聲音會成為目標
X
"Tortoise" series
Edit
"Tortoise" series
Unthankfu
The Omen
The Avalanche
Time Limit
3 hours
Time Limit
6 hours
Time Limit
12 hours
Event

★

★

★

Event

★

★

★

★

Event

★

★

★

★

★

★

HP
ATK
DEF
Total
HP
ATK
DEF
Total
HP
ATK
DEF
Total
1000
4
6
1010
5000
5
8
5013
10000
6
10
10016
Rarity
-
Rarity
-
Rarity
-
Cost
-
Cost
-
Cost
-
ID
-
ID
-
ID
-
Profile
背負著雪山的巨大烏龜
Active Skill
Icy Divination
Move / All Ranges / Move =1
Generate 2 identical Event cards for yourself and your opponent. The cards generated will have 2 different sides and the face values are all "3".
Generate 2 identical Event cards for yourself and your opponent. The cards generated will have 2 different sides and the face values are all "3".
Generate 3 identical Event cards for yourself and your opponent. The cards generated will have 2 different sides and the face values are all "3".
將一切的結果都交於薄冰卜卦
Freezing Lance
Attack / Middle, Long / Gun =3, Gun =3
ATK +6.
ATK +9.
ATK +12.
以由冰製成的長槍攻撃
Powerful Stomp
Defense / Short / Defense =3, Defense =3
DEF + 3* (Defense #). You are [Paralyzed] (1 Turn).
DEF + 4* (Defense #). You are [Paralyzed] (1 Turn).
DEF + 4* (Defense #). You are [Paralyzed] (1 Turn).
隆起地盤來保護自己
Tempestuous Ice Spear
Attack / All Ranges / Special =3, Special =3
This skill can only be activated when Hiddenness is also activated. All members in your opponent's team HP -2.
This skill can only be activated when Hiddenness is also activated. All members in your opponent's team HP -3.
This skill can only be activated when Hiddenness is also activated. All members in your opponent's team HP -5.
以飛舞的尖銳冰刃造成的暴風雪
Passive Skills
The Immortal
Holy Prestige
Concealment
X
Always activated
Always activated
Activated only when your HP is below 1/3 of your maximum
X
Any skills related to "instant death" will have no effect to you. Status [Stun] will have no effect to you. The effect of the status [Curse] will be reduced.
You have a low chance to get the statuses [Seal].
DEF +15. You take 5x direct damage in your Attack Phase.
X
A great and invulnerable existence.
擁有超越人智之力的存在
藏身於龜殼之中。
X
"Dragon Fish" series
Edit
"Dragon Fish" series
Dragon Fish
Dragon Catfish
Dragon Carp
Time Limit
3 hours
Time Limit
6 hours
Time Limit
12 hours
Event

★

☆
Event

★

★

☆☆
Event

★

★

★

☆☆☆
HP
ATK
DEF
Total
HP
ATK
DEF
Total
HP
ATK
DEF
Total
550
3
5
558
1200
4
6
1210
3000
5
8
3013
Rarity
-
Rarity
-
Rarity
-
Cost
-
Cost
-
Cost
-
ID
-
ID
-
ID
-
Profile
人の肉を喰らって成長するといわれる邪悪な龍の幼体。
Active Skill
Ground Breaking
Move / All Ranges / 1^ Any
Give yourself and your opponent 1 - 2 more Action Cards.
Give yourself and your opponent 1 - 3 more Action Cards.
Give yourself and your opponent 1 - 4 more Action Cards.
大地を揺るがす巨体
Thunder
Attack / All Ranges / 1^ Any, 1^ Any, 1^ Any
ATK +8. If you deal 5 or more dice damage, a maximum of seven Action Cards on your opponent's hand will have their face values decreased by 1; if you deal 4 or less dice damage their face values are increased by 1.
ATK +12. If you deal 5 or more dice damage, a maximum of seven Action Cards on your opponent's hand will have their face values decreased by 2; if you deal 4 or less dice damage their face values are increased by 2.
ATK +16. If you deal 5 or more dice damage, a maximum of seven Action Cards on your opponent's hand will have their face values decreased by 3; if you deal 4 or less dice damage their face values are increased by 3.
空から稲妻を呼び寄せる
Bubbles
Defense / Short, Middle / 2^ Defense
After your opponent's Attack Phase, take all the cards he has used in that phase.
捕食するための泡
Water Curtain
Attack / Middle, Long / 6^ Gun
Deal 2 direct damage to all members in your opponent's team.
Deal 3 direct damage to all members in your opponent's team.
Deal 4 direct damage to all members in your opponent's team.
滝のごとき鉄砲水
Passive Skills
The Immortal
Blue Jade Scales
X
X
Always activated
Any skills related to "instant death" will have no effect to you. Status [Stun] will have no effect to you. The effect of the status [Curse] will be reduced.
You have a low chance to get the statuses [Spellbound], [Paralysis] or [Seal].
X
X
A great and invulnerable existence.
X
Bosses for Events only
Edit
(please refer to the individual event pages for details)
List of Rewards from Raid Bosses
Edit
Main article: List of Rewards from Raid Bosses